SAP C4/HANA, what is it ?
First and foremost, SAP C4/HANA is the technical, marketing and sales response from the world leader in ERP-SAP to the world leader in SaaS-Salesforce CRM! And where Salesforce has focused on Sales, SAP will focus on the Customer.
SAP C4/HANA is therefore a cloud solution based on the customer experience coupled, if desired, with a real-time e-commerce platform that enables closer customer relationships to be established to gain and maintain as much trust as possible with a 360 view.
The solution consists of 5 core applications: SAP Marketing cloud, SAP Customer cloud, SAP Sales cloud, SAP Service cloud and SAP Customer Data cloud.
SAP C/4HANA aims to revolutionize the customer relationship management market by combining marketing automation and front-office management applications with transactional ERP systems and management applications, including of course the in-house ERP: SAP S/4HANA. These applications are integrated via the SAP Cloud Platform (SCP) and integrated with technologies such as machine learning and artificial intelligence using SAP Leonardo. SAP C/4HANA also integrates with SAP HANA Data Management Suite, allowing customers to collect and analyze data from multiple sources.
This combination of applications then allows companies to obtain information and make decisions throughout the sales process, from prospect identification and development to customer execution and payment: This famous 360° view is now required by companies.
The advantages of the C/4HANA differs from Legacy CRM platforms in that it focuses on the customer rather than the sales process. This is important because customers – companies and individuals – now dominate the conditions of sales experiences and determine the course of interactions with their suppliers.
One of the key concepts of C/4HANA is that of data and secure relationships enabling companies to create trusted and sustainable relationships with their customers by taking into account data protection, knowledge of their customers and respect for the data they communicate.
IN THE C/4HANA PORTFOLIO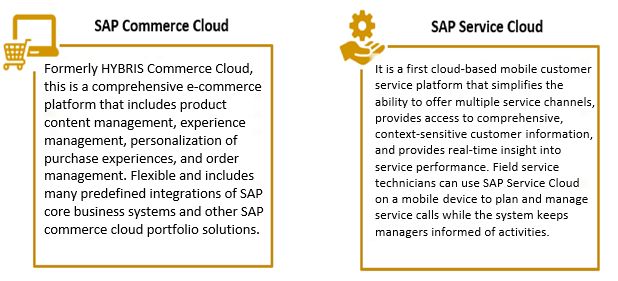 Today SAP offers a complete end-to-end solution across all areas of CRM based on customer experience that consolidates the legacy SAP Hybris, Calliduscloud, Gigya and Core systems under a single "C4/HANA" brand for a simplified process that provides true customer self-service and proactive services, with transparency and data control, and automatic artificial intelligence learning functions will be integrated in sales, service, marketing and sales for even greater quality, interactivity and speed in customer relations.
Feel free to contact the AYMAX teams for more information on the new SAP Business Suite C4/Hana.
Article written by:
Sarra EL GUEDDARI – SAP SD/CRM Consultant